Come to our interactive session on 21st October from 10.00 to 11.00 BST (UTC/GMT+1) on Zoom, and share the journey (both personal and practical) of how we launched a successful tree-planting campaign. We hope this talk will empower many others to initiate their own campaigns around the world.
Please register for this event here
Speakers:
Peter Lesniak – Social entrepreneur passionate about environment regeneration through afforestation and co-founder of the More Trees Campaign.
Dr Padideh Tosti – London business consultant and the co-founder of the More Trees Campaign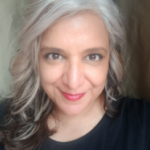 https://www.instagram.com/more.trees.campaign/?hl=en