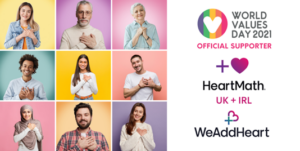 Heart focused meditation on 21st October from 13.00 to 13.30 BST (UTC/GMT+1) on Zoom with Gavin Andrews of HeartMath and WeAddHeart.
When we connect deeply with our hearts, our real, authentic values flow with ease into our awareness. And when values are in our awareness, we can reflect upon how best we can reconnect with what truly matters to us and how we could create a life more in alignment with our values.
This heart-focused meditation and reflection will help you to reconnect with the values at the heart of who you really are and what changes you could make to live more in line with your values.
The meditation will be facilitated by Gavin Andrews, Managing Director of HeartMath UK & Ireland and founder of WeAddHeart.
Heartmath UK & Ireland and WeAddHeart are Official Supporters of World Values Day.
Please register here for this free event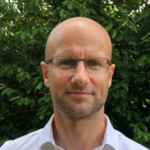 Gavin Andrews is Managing Director for HeartMath in the UK and Ireland.
Gavin discovered HeartMath, coherence and heart-based living 14 years ago. Since then, he has found joy, meaning and purpose in sharing the science and practice of coherence with others. 
In addition to sharing coherence through HeartMath, Gavin also founded WeAddHeart, a growing international movement empowering people to connect with their own hearts and the hearts of others; to live more fully from the heart and to add more heart and coherence to the world.
Gavin is passionate about finding practical ways to help people discover calm, clarity and coherence in our increasingly chaotic world. Recently he co-launched Syntropy States, a start-up which creates beautiful Audio-Visual Relaxation Aids and Breath Pacers using digital generative art and 8D chillout music.