A competition for 7 – 11 year olds to write about their favourite value, with prizes for the 8 winning stories.  All entries to be in by 17th October.
To celebrate World Values Day 2019, the Human Values Foundation invites schools and other organisations involved with children from 7 to 11 years old from all over the world to take part in our story writing competition.  The stories must be original and centred around one chosen value (see list of values below).  Stories should be in English, no more than 400 words long and can be illustrated, although that is not mandatory.
All stories must be submitted by World Values Day, Thursday 17th October 2019.
Prizes of book tokens will be awarded for the best 8 entries, with a top prize of £150 worth of book tokens, and certificates will be awarded for all entries that are published.  For the fist time there will also be prizes for best illustrations too.
Winners will be announced on Friday 29th November.
Click here for more details and how to enter the competition
The Judges
The Human Values Foundation is delighted that Ed Mayo, Dr Paquita de Zulueta and James Minter will form the panel of judges.
Ed Mayo is a well-known "values activist". He is Secretary General of Co-operatives UK, the national business association for co-operative and mutual enterprises, co-author of the book Consumer Kids, and has long been a key figure in social innovation, being part of the team that started the worldwide Fairtrade Mark. In 2016 his book Values: How to Bring Values to Life in Your Business was published.
Dr Paquita de Zulueta is an honorary senior clinical lecturer at Imperial College London and a member of the clinical ethics committee of Imperial College NHS Trust. She worked in 2018 as GP lead for the NHS Grenfell Outreach Team. Paquita lectures and runs seminars for undergraduates, postgraduates and professionals and writes in peer-reviewed journals about medical ethics and law and compassion in healthcare. She is Convenor of Human Values in Healthcare.
James Minter was a college lecturer and worked in the computer industry well before smartphones.  He is a humorous writer who turns life lessons into meaningful stories and in particular, his series of The Billy Books aimed at children aged from 7 to 11, provides great opportunities for adults and children to have informed conversations together about values and positive behaviours.
This year, not only will there be prizes for the best stories but for the best artwork too.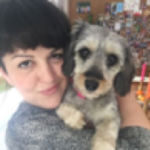 Galia Durant will judge the artwork. She is a gifted illustrator and musician who loves coming up with creative results from making, drawing, bashing, singing, moulding and plotting.  She is very much looking forward to looking through the pictures and illustrations submitted this year.
The Human Values Foundation was formed in 1995 to encourage, promote and develop human values among young people through its educational programmes, publications, exhibitions, conferences and staff exploration sessions. It is a non-denominational and independent body, which does not represent or work on behalf of any particular religion or spiritual interest. It is a registered charity and a private company, limited by guarantee. The HVF enjoys close links with national education bodies in the UK.
It has just launched an exciting and innovative new values-based personal development programme for children from 4 to 11 years old called The Big Think.