World Values Day is 15th October 2020
World Values Day is an annual campaign to increase the awareness and practice of values around the world. Values are increasingly the focus of public debate and discussion, but their role in our lives and their importance are not always fully understood.

World Values Day provides an opportunity to think on our most deeply held values and explore and act on them with others.

This Year's Theme is Values in Action
The theme of Values in Action was chosen for this year's campaign just before the coronavirus crisis exploded and confronted us with a life-and-death threat to every corner of our planet.
Times of crisis bring out the best in us. Superficial concerns fall away and we rediscover what really matters: our values. The positive response of so many individuals, groups and organisations has been inspiring.  Everywhere the vast majority of people have come together, supporting each other and their communities with determination and courage: they have dug down to their core values and put them into action.
We have been so inspired by all the #ValuesHeroes around the world who have shown the power of putting their values into action in crisis. Let's make it a habit. What will you be inspired to do this World Values Day?
Other Ways To Get Involved
Part of a group, school or organisation? Organisations across the world are taking the Values Break together, or taking the Values Challenge specifically designed for larger groups.
Every year people use World Values Day to take a deeper dive into values, wellbeing and more with our tools and resources.
World Values Day is a charitable cause run entirely for the love of spreading the word. You can donate by using the donate box at the bottom of every page on the website.
We're proud to be supported by a range of partners, influencers and sponsors. Become one – email us at: info@worldvaluesday.com
Values social feed: how you are bringing your values to life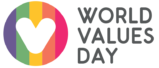 Contact
Enter your contact details below to join our mailing list and receive ideas for how to live your values everyday, also do let us know how you would like to get involved, or tell us about your event or activity:
Donate Here
World Values Day is co-ordinated by volunteers passionate about putting values at the heart of society, we really need your donations to enable us to raise awareness through the creation of animations, videos and marketing campaigns, so please give generously to allow us to continue this valuable work. Your support is very much appreciated. Thank you.