The next
World Values Day is Thursday, 19th October 2023
What will you be inspired to do?
World Values Day is an annual campaign to increase the awareness and practice of values around the world.
Values are what matter most to us. They motivate and guide us. They are the passion in our hearts, the reason we do the things we do.
In a world that can feel increasingly divided, values help unite us. They are the glue holding together our communities and wider society.
So on World Values Day let's put our values into action, reaching across the growing barriers that divide us to build stronger communities and a more united world
Choose a value that's important to you and a community (or communities) you belong to.
For help in choosing your important value take a look at our Values Guides.
Put that value into action in a way that will help your community become a little bit stronger.
For inspiration and ideas on how to do this take a look at our Values Guides.
Spread the love and inspire others to do the same by sharing your story.
Post to social media using #WorldValuesDay2022 on 20th October & don't be afraid to get creative. You could even include a  selfie with our pre-made template.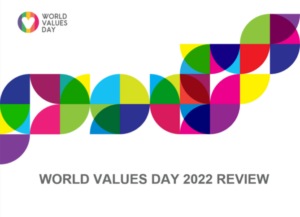 Community
Catch up on what happened on World Values Day 2022 in this Review of the hundreds of events and activities that took place both online
Read More »
Other Ways To Get Involved
Part of a group, school or organisation? Organisations across the world are taking the Values Break together, or taking the Values Challenge specifically designed for larger groups.
Join the Valuesthon, our all-day, online festival of values spanning the time zones of Asia, Australasia, Africa, Europe and America! Find out more about the Valuesthon
here
.
Every year people use World Values Day to take a deeper dive into values, wellbeing and more with our tools and resources.
World Values Day is a charitable cause run entirely for the love of spreading the word. You can donate by using the donate box at the bottom of every page on the website.
We're proud to be supported by a range of partners, influencers and sponsors. Become one – email us at: info@worldvaluesday.com