This selection of useful tools and resources kindly provided by many World Values Day supporters will help you explore your values and gain useful insights. If there is a particular values theme you are interested in, then please search using the colour coded filters below.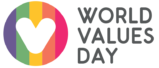 SPECIAL OFFER: Be grounded in 'who you are uniquely' and stand with conscious strength & resolve, to move forward with energy, ... Read More
Enter your contact details below to join our mailing list and receive ideas for how to live your values everyday:
Get in touch to tell us how you would like to get involved, or to tell us about your event or activity.


Countdown to World Values Day