All kinds of events and activities are taking place on World Values Day and in the weeks and days leading up to it.  Some of these are appropriate for individuals, some for groups, organisations or schools and these can be searched for using the relevant colour filters below.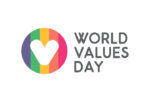 Join our World Values Day Planning Calls Planning Sessions for this year's World Values Day have been running since early this year and Read More
Contact
Enter your contact details below to join our mailing list and receive ideas for how to live your values everyday, also do let us know how you would like to get involved, or tell us about your event or activity:
Donate Here
World Values Day is co-ordinated by volunteers passionate about putting values at the heart of society, we really need your donations to enable us to raise awareness through the creation of animations, videos and marketing campaigns, so please give generously to allow us to continue this valuable work. Your support is very much appreciated. Thank you.