World Values Day is thrilled to announce the launch of its ground-breaking campaign, 100 Days of Values in Practice. Beginning on 11th July 2023, this initiative aims to engage and inspire citizens of the world to recognise, embrace, and celebrate the values that contribute to personal well-being and foster a more harmonious society.
The campaign is designed to enhance the conversation around the globally-recognized World Values Day which, this year, will be celebrated on Thursday, 19th October.
World Values Day is an annual, global event that invites individuals, communities, and organisations worldwide to reflect on their values and engage in actions that promote positive change. This year, it incorporates a unique and exciting 100-day journey, encouraging individuals from all countries, and all walks of life, to participate in simple values-based activities.
The 100 values practices range across four categories which derive from the V20 Values Compass1:Nature, Economy, Society, and Well-being.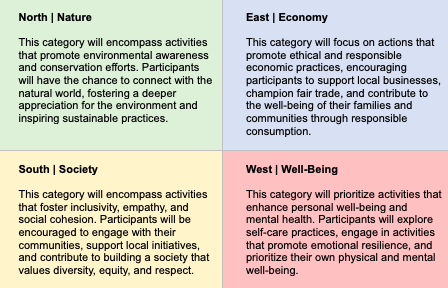 By engaging with these tasks (as an individual, or as part of a group, class, or household), participants will have the opportunity to make a meaningful difference and create a lasting impact in their lives and communities. These activities are designed to be accessible to all, regardless of age or background, and range from single acts of goodness to longer-term initiatives that align with the core values cherished by communities and individuals, around the world.
How do I participate?
The list of 100 practices can be used in various ways, depending on your personal circumstances and preferences
The Ultimate 100 Days Challenge: Can you personally complete all 100 practices on the list?
Team Up: Collaborate with friends, family, workmates, or classmates and collectively work through all 100 practices.
Values Compass Competition: Four individuals (or four teams) choose one category each to complete. Who can complete the most practices (or complete them the fastest)?
Values as You Go: A more casual way to engage in values practices – but just as effective! Keep the list handy and choose an activity when you are inspired. There is no time limit on values-driven living, so use the list year-round.
Share your Values in Practice updates on social media using the hashtags #WorldValuesDay and #WorldValuesDay100 and we will share your efforts with the world.
World Values Day invites individuals, schools, community groups, businesses, and organisations from all sectors to participate in this impactful campaign. By collectively embracing and celebrating shared values, we can forge a path towards a more compassionate, inclusive, and harmonious society.
Click here for a full list of 100 Days of Values in Practice