By Charlotte Church, Marketing Manager, Virgin Pulse
WHY IS CULTURE SO IMPORTANT? 
Believe it or not — it pays to keep your people happy. The reason workplace culture is so important becomes crystal clear when you look at the facts:
Happy workers are 12% more productive than the average worker

 

Unhappy workers are 10% less productive than the average worker

Organisations with rich company culture have a 13.9% chance of turnover

Organisations with poor company culture have a 48.4% chance of turnover
We also know that creating great workplace cultures is a crucial step toward increasing employee engagement, a key indicator of strong business performance. Not only does higher engagement correlate with lower turnover, according to a 2013 Gallup report, "companies with engaged workforces have higher earnings per share (EPS)."
The business case for creating a strong company culture is clear. But even more valuable than
improving employee retention, productivity or engagement, is sending the message to employees that their organisation cares about them. This is where aligning company culture, values and wellbeing can have the most impact. 
WHAT DO CULTURE AND VALUES HAVE TO DO WITH WELLBEING?
Corporate values that align with personal and professional beliefs are becoming increasingly important to employees. As many people spend most of their time at work, feeling connected to and identifying with a company's values not only contributes to a sense of purpose and belonging, it's a great motivator. 
Wellbeing programs are an opportunity for the employer to manifest the company's values on a-day to-day basis. Values such as inclusivity, comradery and teamwork can be experienced through company-wide challenges, volunteering opportunities or even by social networking through an app.
Moreover, providing employees with the tools they need to improve their wellbeing can boost morale, create new ways to network and build relationships, and help to knock down the barriers that divide people in the workplace — geographical or otherwise. In fact, 80% of employees voice that they feel better about their work culture thanks to wellbeing programs. Why do these programs work? Because when employees interact with each other every day in an environment that's fun and engaging, it creates a positive, shared experience that motivates everyone to perform at their best. 
CREATING AN INCLUSIVE  COMPANY CULTURE THROUGH WELLBEING
Not everyone wants to track steps, and that's OK. Successful workplace wellbeing programs include options and modifications that enable every person within an organization to not just participate, but take meaningful steps toward their individual health and wellness goals. Key to inclusivity is addressing wellbeing from a holistic perspective. By looking at the individual as whole person and providing them with tools to improve nutrition, stress, sleep, or any other area of priority means that your people can start on their health journey, no matter where they are.
Wellbeing programs that adhere to ACA compliance may include options for exercise that may be considered non-traditional. For instance, employees should have the ability to track swimming, weightlifting, and even archery — yes, archery — if they want to participate in their organization's fitness initiatives. The range of activities should also include options for people with disabilities, such as allowing people in wheelchairs to track "wheeling" rather than steps. When wellbeing programs allow employees to tailor the types of exercise they're able to track, everyone can be included — and everyone wins.
On top of accounting for non-traditional exercises and different stages of a person's health journey, there is a large segment of the workforce population who traditionally gets overlooked: temporary and part-time employees. If they're excluded, a large percentage of your workforce might be left out of your company's culture and wellbeing initiatives. Successful wellbeing programs allow every employee to feel connected.
IT ALWAYS PAYS TO PUT YOUR PEOPLE FIRST
Your people are at the heart of your business, and employee wellbeing is at the heart of every great company culture. Members of a workforce who are empowered, balanced and focused on personal wellbeing will be better equipped to do their jobs with focus and clarity, day after day. So, if your company values are directly tied to the health and happiness of your employees, your business and your people will thrive.
If you want to learn more about Virgin Pulse and how wellbeing can change your relationship with values and company culture, contact us here.
About the author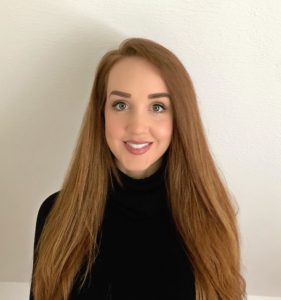 Charlotte Church has been the Marketing Manager at Virgin Pulse for 5 years. Charlotte works with Virgin Pulse's clients to ensure that they roll out an effective and well communicated wellbeing programme. Virgin Pulse's wellbeing solutions help your employees create habits that matter so they can be their best at work and at home. Leading the way in employee engagement, we fuse the science behind healthy habit formation with engaging, gamified content to create high performing workplace cultures.